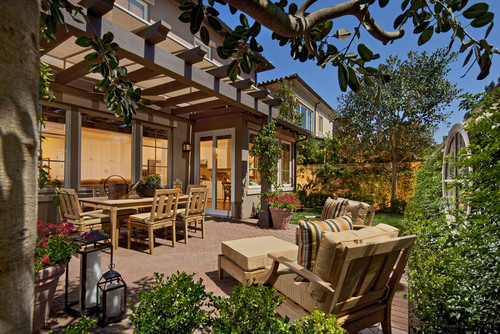 By Melissa Dittmann Tracey, REALTOR(R) Magazine
A home's inviting outdoor space may be just enough to get a home buyer to fall in love. The American Society of Landscape Architects recently surveyed nearly 180 landscape architects asking them to rate the expected popularity for 2014 of a variety of residential outdoor elements.
Across all categories, respondents rated the following as "somewhat" or "very in-demand" for 2014: lighting, seating/dining areas; fire pits/fireplaces; grills; installed seating, such as benches, seatwalls, ledges, steps, and boulders.
"Home owners know that designed landscapes add value to their lives as well as their property values," says Nancy Somerville, ASLA executive vice president and CEO. "They're interested in livable, open spaces that are both stylish and earth friendly."
Here's a breakdown of how home owners are sprucing up their outdoor spaces, and some of the top trends that landscape architects pinpointed for 2014 in each category.
By Melissa Dittmann Tracey, REALTOR Magazine
More Americans are showing their love for the great outdoors with their homes, seeking more outdoor living spaces at home that can blend in with their indoor spaces too, according to the American Institute of Architects Home Design Trends Survey for the first quarter of 2012. AIA surveyed nationwide architects to discover home preferences. The first quarter survey focused on home layout and the use of interior and exterior space.
"In the last few years, outdoor living spaces have become the new 'great room' in terms of must-have items for home owners," says Kermit Baker, AIA's chief economist. Continue reading »