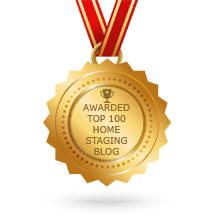 Welcome to Styled, Staged & Sold. This blog, hosted by REALTOR® Magazine, aims to give you the information you need to spruce up your listings and get them sold.
By knowing the latest trends in home design, you can help sellers make informed decisions on much-needed room makeovers that can transform out-of-date listings into a neighborhood showpiece.
We hope to create a blog community where you can openly share your experiences, insider tips, and design questions and challenges.
Want to be a guest blogger? Have questions about this blog? Please contact:
Melissa Tracey
"Styled, Staged & Sold"
REALTOR® Magazine
430 N. Michigan Ave.
Chicago, IL 60611-4087
E-mail: mtracey@realtor.org
————————————————————————————————————————-
NAR disclaims responsibility for any of the content or opinions expressed on this blog, including, but not limited to content or opinions regarding any products or service mentioned on the blog.
NAR disclaims liability for any damages or losses, direct or indirect, that may result from use of or reliance on information contained in the blog.
This blog may contain links to other Web sites operated by third parties. These links are provided as a convenience to access the information contained therein. NAR has not reviewed all of the information on other sites and disclaims any responsibility for the content of any other sites or the products or services that may be offered on or through those sites. Inclusion of a link to another site does not indicate any endorsement or approval of the site or its content.
NAR reserves the right to edit, remove or deny access to individuals or content that it determines to be unacceptable, including, but not limited to, any abusive, profane, rude, defamatory, or anonymous comments.
NAR reserves the right to reproduce blog posts and comments in other of its online and print communication mediums, including, without limitation, REALTOR® Magazine. Comments or blog posts that are published elsewhere may be edited for space and clarity to fit stylistically with the other medium.